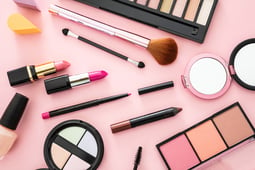 Daily Manufacturing is committed to helping our clients develop, produce, and package personal care, cosmetic, and health and wellness products. For more than 20 years, we've been a trusted color cosmetics manufacturer for start-ups and global brands alike.
We'd love to work with you on your color cosmetics, and we understand that choosing a manufacturing partner for your makeup line is a big step.
Click to Expand

Getting Started With a Color Cosmetic Manufacturer

Starting a makeup line requires a lot of research and planning. When partnering with a color cosmetic manufacturer, there are many important factors to consider. These include:
FDA Regulations. The FDA has specific rules regarding the manufacturing and labeling of cosmetic products. Complete your research and choose to work with a company that fully understands the regulations and operates in line with them.
Location. In the beginning, some cosmetic companies create products at home, though it's hard to scale up your business with limited space and capabilities. Renting space in a lab to test and produce your products is an economical alternative. If you work with a contract manufacturer, they already have extensive facilities and equipment to create everything you need.
Niche. Decide where you want to specialize: hybrid cosmetics, organic formulations, products based around one particular super-ingredient, anti-aging products, etc. This decision is all yours, and your manufacturing partner will work with you to bring your vision to life, no matter what it is.
Marketing Plan. You need to know how you intend to move forward. How will people hear about your product? What happens if you sell out— can you get another production run completed quickly? How do you intend to expand your line of color cosmetics?
Logo. Branding is key! You want your products to be instantly recognizable. Your logo may be a potential customer's first impression of your brand, and it can be what inspires them to try your latest product.
As a new business, you'll face three major categories of startup costs:
Product Development: About $5,000 per product
Business Expenses: Varied, but at least $2,000
Marketing and Sales: $500 and up
If you work with a professional chemist to develop your product, which is highly recommended, it costs an average of $2,500—though the price can skyrocket up to $25,000. Your required investment could vary greatly depending upon the chemist and the particular ingredients you're working with.
It's also important to budget for product testing. This is essential for makeup, as it ensures safety and effectiveness. These tests include:
Microbial Testing. This ensures your preservatives are effective, which will help prevent product spoilage and ensure your consumers aren't using a contaminated product. It costs about $350 per product.
Stability Testing. This is how we determine how your product behaves and reacts to different storage environments and temperatures. Do the ingredients separate? Does it change color or smell? Does it get contaminated and rendered ineffective when exposed to long periods of light, moisture, or heat?
Safety Testing. Sensitivity testing is optional but highly recommended if your budget allows it. If your product will be used around the eyes or contains specific ingredients like SPF, BHAs, etc, you should consider budgeting for safety testing.
You'll also want to budget for property insurance and/or general liability insurance. No matter what role you play in the process (as the brand, the formulator, or the manufacturer), insurance is essential for protecting yourself against a potential lawsuit from an unhappy consumer.
Color Cosmetic Services at Daily Manufacturing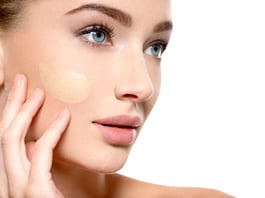 At Daily Manufacturing, we have a variety of conventional, all-natural, and organic products for private labeling, or you can work with us as your contract manufacturer to develop your unique formulation. Our color cosmetics services include:
Face Products. Liquid foundation, tinted moisturizers, BB and CC cream, concealer, primer, setting spray, color corrector, and loose translucent powder
Eye Products. Eye shadow powder and sticks, primer, retractable eyeliner and eyebrow pencils, liquid and pencil eyeliner, tinted brow gel, brow wax and pomade, lash primer and mascara, lash serum, and under-eye concealer
Cheek Products. Cream blush, bronzer, highlighter, and contour
Lip Products. Liquid and traditional lipstick, lip gloss and stain, lip balm and other lip treatments, lip plumper, lip primer, and lip liner
Color cosmetics are only one of our offerings. We can also produce a wide range of personal care products, including soaps and shampoos, hand sanitizers, cleansers and moisturizers, serums, tinctures, and so much more.
When you partner with Daily Manufacturing for your color cosmetics line, you take advantage of our 45,000 square-foot facility, experienced designers and developers, and years of industry experience. Contact us to learn more about how we can bring your makeup line to market, or request a quote for your project.