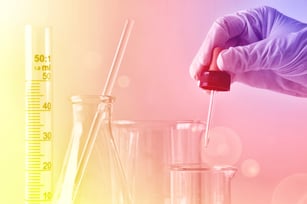 Cosmetics formulation is an intricate science. It's not enough to simply mix your favorite ingredients together—you have to consider how each one interacts with the others as they work together to create an effective product. At Daily Manufacturing, we put our 20-plus years of industry experience to work for you, formulating cosmetics that are safe and effective to help you build your brand. We develop, create, and package personal care, health, wellness, and cosmetic products for start-ups and established corporations alike.
Click to Expand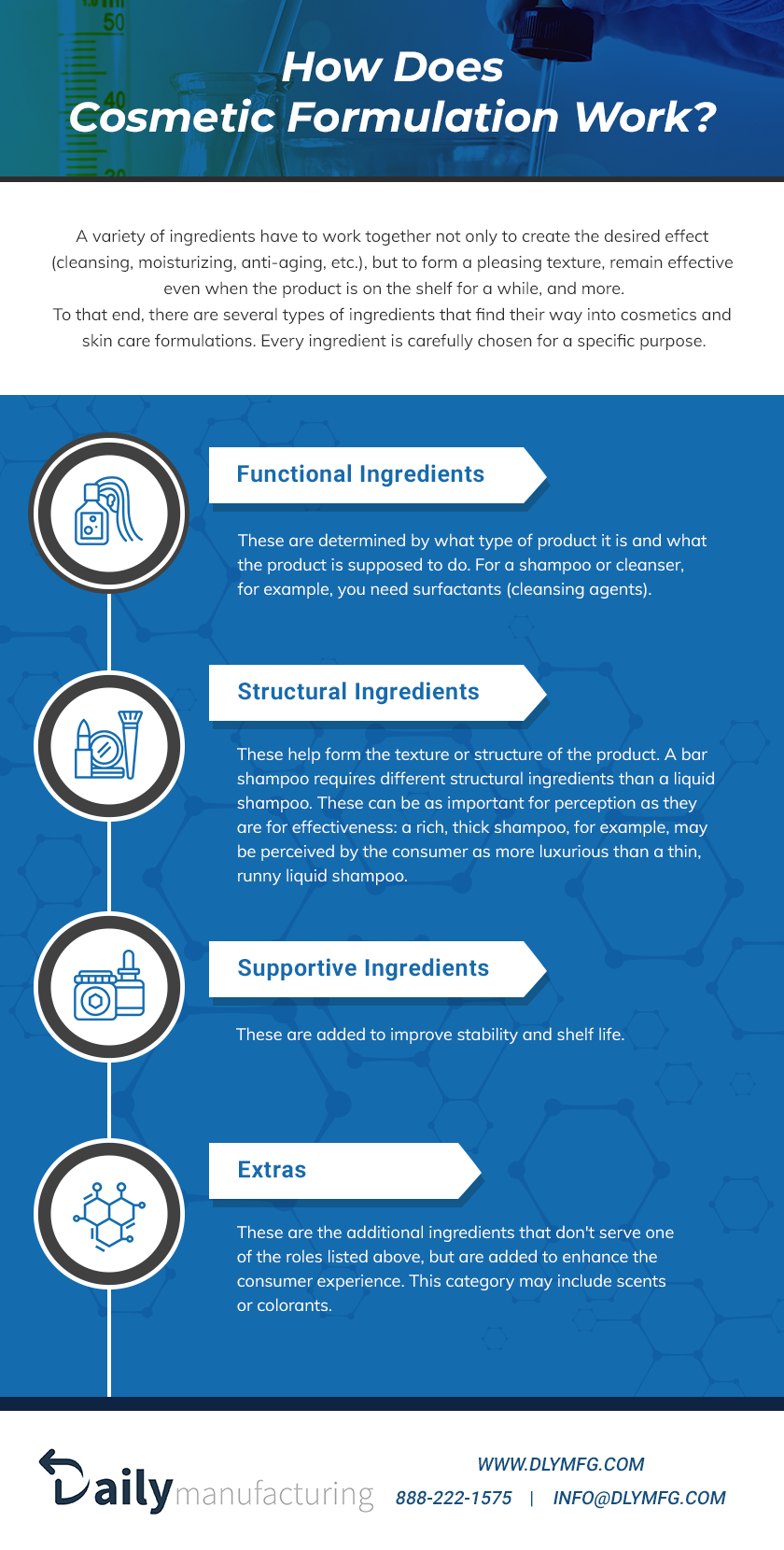 How Does Cosmetic Formulation Work?
A variety of ingredients have to work together not only to create the desired effect (cleansing, moisturizing, anti-aging, etc.), but to form a pleasing texture, remain effective even when the product is on the shelf for a while, and more. To that end, there are several types of ingredients that find their way into cosmetics and skin care formulations. Every ingredient is carefully chosen for a specific purpose.
Functional Ingredients: These are determined by what type of product it is and what the product is supposed to do. For a shampoo or cleanser, for example, you need surfactants (cleansing agents).
Structural Ingredients: These help form the texture or structure of the product. A bar shampoo requires different structural ingredients than a liquid shampoo. These can be as important for perception as they are for effectiveness: a rich, thick shampoo, for example, may be perceived by the consumer as more luxurious than a thin, runny liquid shampoo.
Supportive Ingredients: These are added to improve stability and shelf life.
Extras: These are the additional ingredients that don't serve one of the roles listed above, but are added to enhance the consumer experience. This category may include scents or colorants.
What to Consider When Formulating Your Products
The first step is always determining the purpose of the product. Ask yourself the following questions to get a better idea of what functional ingredients you'll need to use:
Who will use the product? (Children, men, women, older adults, athletes, etc.)
What problem are they trying to solve? (Heal dry skin, clean their hair, clean their face, reduce acne or wrinkles, etc.)
How do you want the product to look and feel? (Is it pleasing and user-friendly?)
Do you want to use all natural, organic, or vegan ingredients?
Next, you need to understand your ingredients. What is the specific purpose of each one, and how do they all blend together to create synergy: a product that is better than any one of those individual ingredients used alone?
Finally, you should know there are two ways to measure ingredients.
Volume: The ingredients are measured via a liquid measuring cup.
Weight: The ingredients are measured on a scale.
Either way, accurate measurements are the key to product consistency. Every batch must be precisely measured the same way so your customers can trust they'll receive the product they know and love every time they place an order. Make sure you have the right measuring tools to do the job and keep accurate records during the product development process.
Cosmetic Formulation Services at Daily Manufacturing
We're more than a skin care and make-up formulation company: we're your partner. We work closely with you to get a clear idea of what you want your product to do, then we research and test formulations to find the best processes, ingredients, and even packaging. You'll receive detailed updates and have an opportunity to provide feedback to make sure the work we're doing is aligned with your brand vision and customer expectations.
After you've approved the final formulation, we leverage our extensive industry network to find raw materials at great prices. As a well-established contract manufacturer, we can help you take advantage of bulk pricing and long-term industry relationships that you wouldn't be able to get on your own.
The professionals at Daily Manufacturing are here for you every step of the way. When production is complete, we can manage filling and packaging and order fulfillment if you require those services. It's all part of your customized cosmetics formulation experience.
Contract manufacturing is a time- and cost-saving way to get professional cosmetics formulation for your brand. We already have the professional network and reliable material sources, the equipment and expert team, an understanding of industry standards and regulations, and years of experience, and we enjoy working with companies of all sizes to bring your products to market. Contact us to learn more about the art and science of formulating cosmetics or request a quote for your project.