Formulating Organic Personal Care Products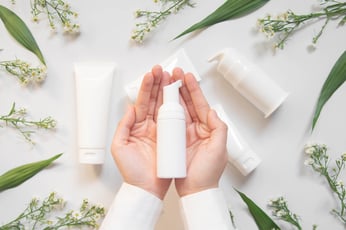 Organic products are those produced without pesticides and other chemicals. To put an organic label on a product, the ingredients must have been grown under specific conditions as outlined by the USDA.
Organic formulations in skincare are becoming more popular. Consumers are aware of how the products they put on their skin can impact their entire body, and they want to avoid chemicals and unnecessary additives. In our formulation laboratory, Daily Manufacturing produces organic personal care products according to the high standards required by discerning clients and the organic label.
Importance of Organic Formulas
Organic personal care product formulations build value and set your product apart. Organic products offer lots of advantages to consumers and to the planet as a whole:
Nutrient Dense: Organic products are made with responsibly grown natural ingredients like aloe vera, green tea, raw sugar, essential oils, algae, beeswax, and more. These substances are rich in nutrients that nourish your skin naturally. Organic personal care products are simply better for you.
Fewer Chemicals: Because organic products are grown without conventional pesticides and herbicides, fewer chemicals make their way into the final product. This is good for the planet, too, as those chemicals soak into the soil in the farm fields. Furthermore, these organic formulations avoid certain chemical additives, fragrances, and preservatives that can cause skin irritation or allergic reactions.
Eco-Friendly: It's not just about avoiding chemical pesticides. Buying organic products supports small family farms and artisans. Organic companies often take their environmental commitment a step further with recycled or recyclable packaging, and many of them give back to the organizations working to make the world a healthier place for all of us.
Organic Formulation
Organic personal care product formulation depends on the specific product, but there are a few basic ingredients that are common in moisturizers, cleansers, and more. These include vitamin C and E, hemp, hyaluronic acid, activated charcoal, green tea, aloe vera, cucumber, and more. To improve texture or scent, other ingredients may be added, including xanthan gum for thickening, water as a base, or essential oils for fragrance.
Ingredients are added to a formulation for a variety of reasons, and they fall under specific categories, including:
Exfoliants: Remove dead skin cells to reveal smooth, fresh-looking skin. Sugar and oatmeal are often used as exfoliants.
Humectants: Keep skin plump and hydrated by drawing in moisture. Aloe vera and hyaluronic acid are humectants.
Emulsifiers: Help prevent different substances from separating.
Astringents: Keep skin looking healthy by promoting healthy oil production. Rose water and witch hazel are astringents.
Choosing the Right Ingredients
To create your own skincare line, it's important to consider the entire process of turning your idea into a popular product. When you work with an experienced contract manufacturer like Daily Manufacturing, we make this planning process simple and enjoyable for you:
Bring us your idea: We'll have a meeting and determine how your proposed formula fits our existing offerings and manufacturing capabilities.
Research and development: We have the team and the facilities to develop and customize your organic formulation.
Testing: We'll create product samples and test them to ensure the product does what you want it to do.
Manufacture your product for sale: After your formula has been perfected, we'll do a large production run. We'll source everything you need through our supply chain, and the final products will be inspected and approved before we release them for shipment
When this process begins, you should know what you want your product to do (cleanse, moisturize, offer anti-aging benefits, etc.). We'll help you choose the ingredients that will contribute to that goal.
With years of experience in formulating organic skincare, Daily Manufacturing can help you create your own skincare line. You can rely on our expertise and extensive capabilities to bring your product to market. It's more cost-effective than doing it by yourself, and we work to make the experience hassle-free, so you can spend time building your brand and your business while we build your products according to your wishes and specifications.
Contact us to learn more about organic formulations, or request a quote for your project.