Benefits of Using a Co-Packer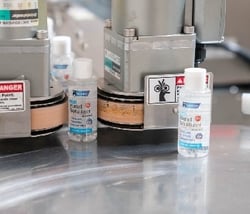 A co-packer, or contract packager, refers to a company that manufactures and packages products on behalf of a client. As a form of outsourcing, co-packing delivers many competitive advantages. Daily Manufacturing is a provider of comprehensive product development, production, and packing services for companies of all sizes. This blog will discuss how co-packers work as well as the various benefits contract packaging provides businesses.
How Does a Co-Packer Work?
Co-packaging companies like Daily Manufacturing offer numerous services to meet diverse business needs. The co-packing company will either manufacture a product line on behalf of another business or receive finished goods in bulk and then package them. Co-packers provide package testing and design services and feature a wide variety of packaging materials to choose from.
The complexity of the co-packaging process varies depending on the needs of each business. It could be as simple as adding barcode stickers to products or involve a more intensive process of package design, testing, production, and fulfillment. The final product is packaged in nearly any desired material including:
Cardboard boxes
Cans
Blister packaging
Glass jars
Plastic bottles or tubes
Tins
Shrink-wrap
After packaging, the products are prepared for shipment and sent via tracked delivery to the business's desired location.
Why Use a Co-Packer?
Using a co-packer allows businesses to meet rising demands without having to invest in additional infrastructure or staff. Co-packers eliminate the need for production-grade machinery, expanded warehouse facilities, and additional staff with the necessary technical expertise. In addition to these savings, when companies outsource their manufacturing or packaging, they can focus more on marketing and customer care.
The costs associated with manufacturing products can be very expensive and many new or smaller businesses don't have the necessary funds to perform extensive product testing. Co-packing solves this issue by providing significant savings on production-related expenses and delivering product research and development services.
Benefits of Using a Co-Packer
Partnering with a co-packer delivers many benefits for businesses of all sizes. Some of the most significant benefits include:
Overall cost reduction. Fully-equipped, large-scale packaging facilities are incredibly expensive. Co-packers have already invested in this infrastructure and feature highly experienced staff.
State-of-the-art equipment. Co-packers already have the necessary equipment needed to process your products. Daily Manufacturing has a 45,000 sq. ft. facility that houses all the latest packaging technology.
Increases scalable capability. Co-packers already have the workforce and facility in place to handle any level of demand, providing businesses with rapid and simple scalability. Daily Manufacturing can fill 150,000 bottles per day or as many as 5,000,000 bottles per month.
Delivers faster turnarounds. With high production capabilities and proven staff expertise, co-packers provide faster turnarounds than many businesses would be able to accomplish independently. Even large-volume orders or complex, specialty packaging is delivered to market with minimal lead times.
Brings certifications. Co-packers are already registered with the FDA and feature many certifications another business might not have. This saves business owners the time and expense of obtaining third-party certifications themselves while allowing their products to adhere to the most stringent quality standards. Daily Manufacturing is ISO 9001:2015 and GMP-compliant.
Bringing a product to market is a complex and lengthy process. In addition to the previously discussed benefits, businesses that partner with an experienced co-packer receive support and guidance throughout each stage of production, from testing and development to labeling, packaging, and shipment.
Daily Manufacturing: Your Source for Comprehensive Co-Packer Services
Using a co-packer allows businesses of all sizes to obtain high-quality, expertly packaged goods in a way that is easily scalable and delivers cost savings. For over twenty years, Daily Manufacturing has provided state-of-the-art manufacturing and packaging services. We handle every stage of the packaging process, from design to delivery, allowing our customers to better control their costs and timelines. To get started on your next project, contact us or request a quote today.