3 Key Steps in Starting a Makeup Line
The makeup industry is highly competitive. New cosmetic products are developed and introduced to the market on a regular basis, which can make it all the more difficult for those made by new or small companies to succeed. There are a couple of manufacturing options a cosmetic company can choose from when creating a new product or product line. Either they can design and manufacture the products in-house or outsource the product design and manufacturing operations to a third-party company. Choosing the latter option is highly beneficial for new and small companies since it generally comes with lower equipment investment costs, greater scalability, and many other advantages.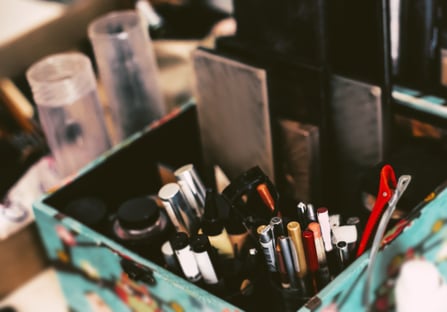 One of the most common forms of outsourcing product design and manufacturing is private label manufacturing. In this type of business relationship, the third-party company develops and manufactures the product but allows other companies to brand and market it as their own. It is advantageous because the contracting company can diversify its product selection without having to invest in product-specific R&D and manufacturing operations, which saves both time and money. In a cutthroat market, such as the market industry, this lower cost of entry can make it easier for companies to start a new makeup line.
The following article discusses three steps you need to take when starting a makeup line: creating your business plan, researching your competitors, and selecting your manufacturing partner.
1. Create Your Cosmetic Makeup Line Business Plan
One of the first steps in creating a new makeup line is developing your cosmetic line business plan. This plan should answer the following questions:
What type of makeup do you want to make?
What is your niche/demographic/audience?
What is your business structure?
What are your brand values and aesthetic?
How will you register and trademark your company?
Do you need to lock down any domain or social media handles?
2. Research Your Competitors
Before you launch a new makeup line, it is important to research your competitors. You can use online search engines and printed media to identify your competitors and understand their products, brand, and business strategies. Some of the factors to look into include:
Product pricing models
Product specials and offers
Customer perception and reaction
Company mission, vision, and values
This information can help you determine how you can differentiate your company and products to stand out from them, ensuring you stand out in the market.
3. Select a Cosmetic Manufacturing Partner
The manufacturing company you choose can significantly affect whether or not your makeup product succeeds. You need to trust them to produce and package quality products that live up to your company's standards. Otherwise, you risk customers being unsatisfied or disappointed by your products. Some of the qualities to look for in an ideal manufacturing partner include:
Experience and expertise with your specific product or similar products
Capabilities and capacities to produce your products to your specifications, in the quantity you need, and under the timeline you require
Value-added services to help keep operations under one roof
You can form several types of business relationships with your manufacturing partner, each of which offers different advantages and disadvantages. You need to decide which one best suits your needs and wants. A contract manufacturing relationship is ideal when you want complete control and rights over the product. A private label manufacturing relationship is best when you are comfortable choosing a proven formulation that is modified or customized to fit your product specifications. A white label manufacturing relationship is appropriate if you are okay accepting a generic product that cannot be altered in any way besides branding.
Contact Daily Manufacturing to Get Started on Launching Your Next Makeup Line
Need a private label manufacturing partner for your next makeup line? The experts at Daily Manufacturing are here to help! We offer a broad range of private label manufacturing capabilities for a variety of personal care products. Whether you need creams, gels, or lotions, bottle, jar, or tube containers, and conventional, natural, or organic products, we've got you covered.
By partnering with us for your manufacturing needs, you benefit from our extensive manufacturing experience and expertise, vast manufacturing capabilities and capacities, and commitment to responsible manufacturing practices. These qualities help us develop and deliver high-quality products that meet and/or exceed your expectations and industry standards.
In addition to private label manufacturing, we also offer various value-added services, including co-packaging, third-party logistics, and fulfillment. We maintain an extensive stock to ensure fast delivery to your facility. Direct order fulfillment is also available.
To learn more about our manufacturing capabilities and how they can benefit your next makeup project, contact us today. To discuss your project requirements with one of our team members, request a quote.